Control Mouse Cursor From keyboard
Mouse one of the important part of your computer. Usually we use our mouse to control our computer, although there are many keybord shortcuts to control our computer. Visit here for
Keyboard Shortcuts
. Although keyboard shortcuts works well but can't work as best as mouse do. So how how to use keyboard as mouse to get all feature of mouse. It can be helpful when your mouse suddenly stops working. And you have no way to buy it recently.
You can get solution of :-

How do I control my mouse through keyboard.
Is there any alternate way to move mouse cursor.
and many other.
So here we Go.
You can disable it and enable it anytime you want. So to enable it just press (Left alt + Left Shift + Num Lock) At same time. You heard a bip sound. and get A message.
Click in Yes
(If your mouse is not working Press Tab to move selection to No or Yes and press Enter to select and in every process use tab to move from option to option)
Now you can Use Number pad As Mouse. Press 4 to move left 6 to move right 8 to move up and 2 to move down. Not only that you can use 7, 9, 1, 3 to move left-up, right-up, left-down, right-down. Use 5 as left click button. Use 0(Zero) to make mouse to click left button and hold it and to release Left click press "Del" or "." . To right click there is Right click button which is simply next to right windows button OR Use Enter that is in Number pad area.
Now you can use keyboard as mouse But it may be too slow or too fast. You can manage it. To manage according to your need follow following process:-
>>> Press (Left alt + Left Shift + Num Lock) At same time. It Disable To use keyboard as mouse so again press (Left alt + Left Shift + Num Lock) At same time. to enable it. Remember not to click Yes (this Time).
Click in Go to Ease of Access Center to disable the Keyboard shortcut. And manage according to your need.
OR,
Go to control panel
>>> Easy to Access
>>>Make the Keyboard easy to use.
>>>Tick mark in Turn on Mouse Keys and click in Set up Mouse Keys
>>>Now manage according to your need
Recommended Setting:
Top speed at middle
acceleration at middle
And tick in Hold Down CTRL to speed up and SHIFT to slow down(Press Ctrl to make mouse cursor move faster and Shift to move in slow speed not accelerating
Click in Apply Change then OK then close it.
Don't Forget to Comment.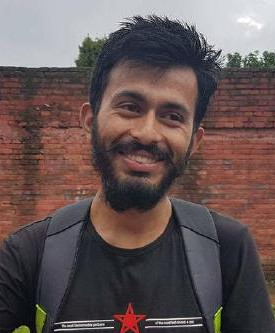 This is Sagar Devkota Co-Founder of Time and Update. I write about Online Earning, Blogging, Web Hosting, Domain Registration, local technical news and some time about Cryptography. I also write about Git, Database, Java, Android, Linux (ubuntu). Studying Bachelor of Software Engineering.