eSewa is the first online payment gateway of Nepal which was established in 2009 January. Being the first electronic payment system it is most popular among all other online payment gateway in Nepal. They have linked up with as much as 45 banks in Nepal and also those banks provides exchange of moneys for free access. There are other Alternative of eSewa too. But are not As popular as eSewa on Nepal. Today I will Guide you to Create eSewa account Updated and Verify it (from Nepal). Yes Peoples from India can also verify the eSewa account. Recently eSewa is Linked with skrill so you can receive funds from Skrill to eSewa account. eSewa is updated and in the new design of eSewa it looks a bit confusing. But we will work our best to make you simple.
How Online Payment gateway works?
Customer submits the payment information to the merchant.
The merchant submits the payment information to the online payment gateway.
The online payment gateway submits the payment information to the payment processor.
The payment processor authorizes the payment and responds to the payment gateway.
The payment gateway responds back to the merchant.
The merchant responds back to the customer.
To learn more about how online payment gateway works and other payment gateways in Nepal check this Post How Online Payment System works?.
Register eSewa With SMS (mobile)
If you have no access to internet or wish not to use the internet connection you can still register your eSewa account. To register eSewa account just type REG and send sms to 32121. SMS sent to 32121(eSewa) from Nepal Telecom mobile is free but from Ncell mobile its Rs. 0.50 per SMS. Follow Using eSewa Via SMS and SMS Syntaxs to know about more SMS Syntaxes.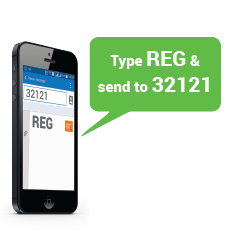 New Create eSewa account
Register eSewa from mobile For Mobile registration please type "REG" and SMS it to 32121 from your NT or Ncell mobile. SMS sent to 32121(eSewa) from Nepal Telecom mobile is free but from Ncell mobile its Rs. 0.50 per SMS.
"New" in New Create eSewa account means New design of eSewa 🙂 . Remember eSewa is esewa.com.np. First visit eSewa. Click on Register on top right corner. You can Create eSewa Account and verify it. Here is New eSewa design Updated eSewa.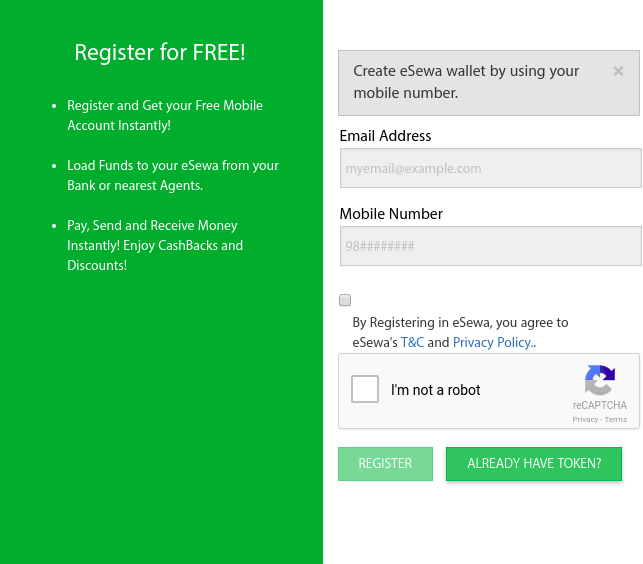 Then Enter your email and mobile number, Remember you need to have access to that email as you need to verify your email by clicking on the link sent to that mail by eSewa. Click in the check box and click in the Google reCAPTCHA for verification then click on REGISTER. You will get email from esewa.
Check your email:-

You will get email that is something like above click in the conform button. As you click on that conform button you will get A SMS as XXXXXX is your verification code for registration. You will be redirected to a eSewa page to set password.

Now in the Mobile Token enter the 6 digit verification code send to you by eSewa. Then set a strong password. (Make a Strong Password) Then you will get SMS from esewa XXXX is your mpin. Mpin == mobile pin :). You will be redirected back to login page. Login with your email and the password.
You are finally on eSewa now you can load fund on your esewa and start your transaction. Check eSewa Partner Banks.
eSewa may take some time to check your account before you add your profile information. even after your add your personal information you need to verify eSewa. Finally you Create eSewa Account on new esewa ie Updated eSewa design, keep reading  this article to Verify your eSewa account.
Verification
Why to Verify eSewa Account ?
Becouse of you have more funds then 9999 your Account will be blocked if Unverifyed.
To Pick up funds sent you from Western Union.
May be more limitations.
How to Verify eSewa Account?
Verifying eSewa account is quite a easy process. What they need is your Your citizenship card (scanned or photo copy) and Your passport size photo (scanned copy or original). Or any other Nationality verifying official documents. You can verify yourself by updating your eSewa profile with required documents. Fot that Login to https://www.esewa.com.np, click on my profile and fill the details, provide the valid documents required and request for verification. Your details will be validated and approved by eSewa
Or
Simply you can visit Nearest eSewa Zone with the identification verification documents.
Currently there is issuer for verification  (20 oct. 2017, 6 PM +5:45). It may be resolved while you are reading this post as I had informed about this to eSewa.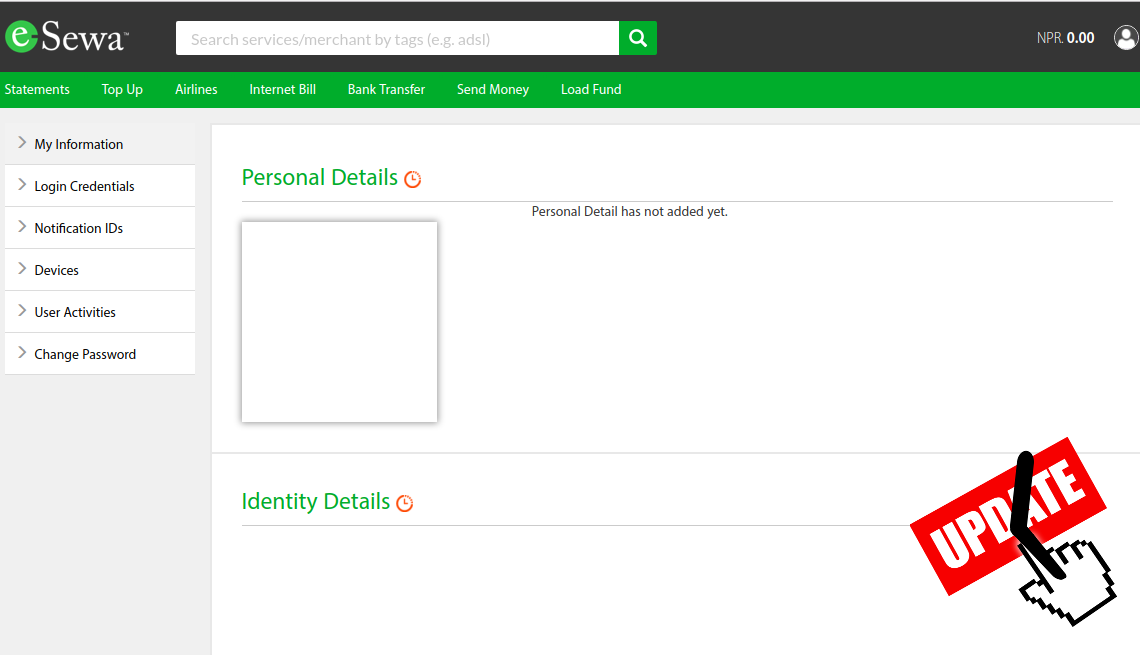 As you see in the above image (Personal Details has not added yet.) (Noticed? We Change our Logo, How is Time and Update's New Logo Do comment. 🙂 ) There should be a form to fill up our personal details. And in the Identity Details there we may could add verification documents. We will update this article whenever the issue is resolved. If you are need to verify it Right now. Please Do contact eSewa.
How was our Article on How to Create eSewa Account Updated. and How is Our new Logo? Please Do comment. Have a Good Day! Don't forget to check Online Payment System Gateway in Nepal.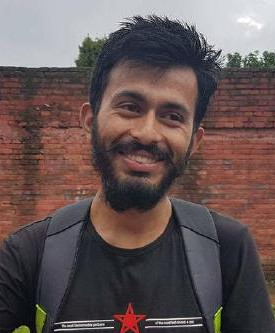 This is Sagar Devkota Co-Founder of Time and Update. I write about Online Earning, Blogging, Web Hosting, Domain Registration, local technical news and some time about Cryptography. I also write about Git, Database, Java, Android, Linux (ubuntu). Studying Bachelor of Software Engineering.