Here is a post about blogging. In this post I will list out why to start blogging and after that I will cover you through the steps to start your blog in very minutes. Blogging is a great idea to share and express you worldwide. Do you know whatever is developed in this internet world still words are the most powerful thing. I wrote this and you can read it. We are distance apart and we are connected and this is because of this blog. And just by blogging I am benefited Personally, Socially, Financially. I recommend blogging to almost everyone I meet, I really hope that today I will encourage you enough to get up and start blogging by that time. So, Why and How to Start Blogging ?
Why to Start Blogging?
Blogging is becoming more and more popular every day. I waited too long to start blogging. And that is one of the biggest regrets of my life. Here I will list out some points you should should start blogging immediately.
Blogging is easy
As I mention already the most powerful things in this internet world is Words and Blogging is just your Words. If your can write 300 words essay for just 10 Marks you can write a blog. Setting up blog may be hard, but there is well established tools to get started. You even need not to know about any technical term. With Blogger and WordPress you should not to deal with HTML or any code and Its Easy.
Connect with Other
Blogging help you to connect with may other people all around world. Peoples with similar ideas to you. Billions of people are able to reach you through all over the world. You can promote yourself and your business through your words. Comments on your writing change your view on that topic. Peoples from different locations, using different devices, and from different time-zones peoples are reading you. You can meet new peoples.
Can Help Other
Blogging make you able to help other. You can share what you know and through that information other peoples can be benefited. When you start a blog and write articles you have a idea on that post which can change the idea of that who reads you. If you can write article with great idea on it, it takes no time to reach by most people all around world. Every Blogs help Other.
Self-promotion and New Opportunities
Blogging can be a medium to promote yourself in this infinite reachable web. If you are that much nice there is nothing that can limit you. You can lead your blog visitors to costumers, or you can point them to your other business. Writing about important topics that are point to your readers make you as an authority in that topics. Peoples start to respect you, you look like an expert. You get a lot of path to go through, Peoples contact you directly.
Learn and Earn
If your blog are on many visitors sight you can start earning. You may had heard about somebody making their life through blogging, Ya it is possible and Many peoples are making a lot from blogging. You will be financially supported from your Blog. Not only that blogging also helps to improve writing and your argumentation. you can improve your grammar, writing skill, communications skills and many more. Earning from blogging can be considered as passive earning.
250 – 300 words on a page is considered to be the standard accepted number of words per page. And we had written 300 words during our school times too. Peoples can reach through GOOGLE. Google will crawls your pages and list them. As listed above Blogging is Easy with lots of benefits, Its Fun. So Get Ready. Write Every Day. As I always do I want you to start blog. If your are ready go through.
How to Start Blogging?
So I listed some of the points for you why to start blogging and here is How to get Started. As I mentioned several times the most powerful tool on the web is still words. so The must important is your writing, its not that much hard get started, There are many popular tool to start Blogging. Today I will list two most popular blogging tool and way to get started. I will write a separate Blog Post for customized blog.
Blogger
Blogger is a blogging platform by Google. You can access it through https://blogger.com. "Publish your passions, your way Create a unique and beautiful blog. It's easy and free." You can start your blog in a Minute. You can Customize it using custom templates (or your own), and custom domain. For now blogger will gives a blogspot.com subdomain for you. With SSL Secure connection. So Just Click on that link and Create a blog. There is a option New Post click there Give it a title and Write and write, Click Publish when ready. Your writing is accessible worldwide.
WordPress
WordPress is Open Source Website creating tool. It is the most popular and easiest blogging tool and website content management system (or CMS) in existence today. For now we are talking about WordPress.com. Click on that link and Click on Get Started. And select Free plan you will get A subdomain you can create post from Write on right top corner. You can create customized (Self Hosted) website through wordpress.org Here you will use your own domain and own hosting.
So by now you get answer of Why and How to Start Blogging ? There is Listed why to Start a blog and how to start a blog. Blogging is the most powerful tool to share your idea all over the world. Blogging helps you to be the best version of yourself. You can improve yourself and people are also helped. So Finally By now you can get started in blogging world. Welcome to the blogging world. If you need any help on or in any problem don't forget to comment below we will be back to answer you. You can comment your blog link below so we can read your words.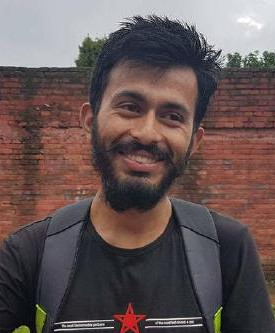 This is Sagar Devkota Co-Founder of Time and Update. I write about Online Earning, Blogging, Web Hosting, Domain Registration, local technical news and some time about Cryptography. I also write about Git, Database, Java, Android, Linux (ubuntu). Studying Bachelor of Software Engineering.