I love travelling many new places, Today here is a guide to reach Rara lake, the largest and beautiful place of nature. Which lies in the Mugu district of Karnali zone in Mid-western Development Region of Nepal. Many visitors like to reach this part of Nepal to get the pleasure of nature. Many of us may will to reach there but may not have got good information about the way to get Rara Lake. We try to inform you all the information to reach there. How to Reach Rara Lake Nepal, Rara lake Trekking
Introduction to Rara Lake
Rara Lake is the biggest and deepest Lake in Nepal. Rara lake is the ornament of Rara National park it lies in Jumla and Mugu Districts. It cover 6.11 Sq mi (4.2 Sq mi (10.8 sq Km) of water surface)and a maximum depth of 167 m (548 ft), is 5.1 km (3.2 mi) long and 2.7 km (1.7 mi) wide. Rara lake was declared as a Ramsar Site in September 2007. It is above 2,990 m above sea level. It is Surrounded by Rara National Park.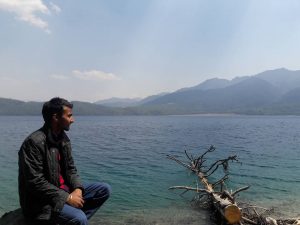 Here is :- My Story to Rara Lake
The roads to Rara lake are not comfortable however the lake is popular. Takes total a week, Need very warm clothes. No network coverage for any smartphones however other phones are available some time. mobile charging services are on some place through solar energy.
If you love trekking natural splendor Rara lake trek is a best option. I am writing this for those trekkers who need some guides. Check this post for Map which can be used even without network Offline map Route Planning with GPS Location.
Ways to Rara Lake
To Rara you can go through Road or by air.
For foreigners
You should visit Nepal. On Tribhuwan International Airport, Kathmandu one and only international airport of Nepal (Till Now). And other guides from Kathmandu is bellow.
For Internal
By Bus:
You can Reached to Nepalgunj (Banke) or Birendranagar (Surkhet) From Kathmandu, Pokhara and other major cities of Nepal by bus. From there you can procedure your trip to Rara Lake. From Nepalgunj or from Birendranagar you can choose means of roadways to Sinja (If you want to trek a day long to Rara from there) OR, Gumgadi (district headquater of Mugu) you need to walk around 2:30 or 3 hrs. If you take way through Gumgadi you would have additional entertainment.
By Air
You can reach to Nepalgunj by Air from Kathmandu. Nepalgunj to talcha Airport it is regular ie. daily (May not if weather is not supportive).
At a Glace
Day 1: Reached Nepalgunj or Birendranagar
Day 2: ON the bus to Rara (stay on way at night)
Day 3: Reached Sinja (Jumla) or Gumgadi (Magu).
Day 4: Sinja -Rara at one long day if you can walk in hill. IT is not recommended to those who are weak, ill as the way is very much Steeper.
Day 5: Finally Rara Lake, a piece of heaven
If you need any more information we are here to help you Just comment below. How to Reach Rara Lake Nepal, Rara lake Trekking Enjoy the trip.