I love travelling many new places, Today here is a guide to reach Rara Lake, the largest and beautiful place of nature. Rara Lake is a lake with a fresh pure water which lies in the Mugu district of Karnali zone in Mid-western Development Region of Nepal. It is famous for the heavenly environment with all naturality. Many visitors like to reach this part of Nepal to get the pleasure of nature to be in touch with pollutionless environment. Many of us may will to reach there but may not have got good information about the way to get Rara Lake. We try to inform you all the information to reach there. How to Reach Rara Lake Nepal, Rara lake Trekking
Introduction to Rara Lake
Rara Lake is the biggest and deepest lake in Nepal. Rara Lake is the valuable ornament of Rara National Park (RNP) it lies in Jumla and Mugu Districts. It cover 6.11 Sq mi (4.2 Sq mi (10.8 sq Km) of water surface)and a maximum depth of 167 m (548 ft), is 5.1 km (3.2 mi) long and 2.7 km (1.7 mi) wide. Rara lake was declared as a Ramsar Site in September 2007. It is above 2,990 m above sea level. Rara National Park is declared around Rara Lake for protecting natural environmen and ecosystem within and around this lake.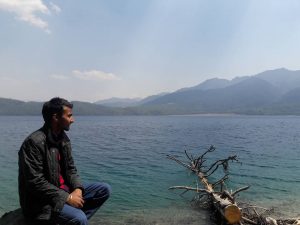 Here is :- My Story to Rara Lake
The roads to Rara lake are not comfortable however, the lake is popular. Takes total a week, Need very warm clothes. No network coverage for any smartphones however other phones are available some time. mobile charging services are on some place through solar energy.
If you love trekking natural splendor Rara lake trek is a best option. I am writing this for those trekkers who need some guides. Check this post for Map which can be used even without network Offline map Route Planning with GPS Location.
Ways to Rara Lake
To Rara you can go through Road or by air.
For foreigners
You should visit Nepal. On Tribhuwan International Airport, Kathmandu one and only international airport of Nepal (Till Now). And other guides from Kathmandu is metion below same as Internal travellers.
For Internal
By Bus:
You can Reached to Nepalgunj (Banke) or Birendranagar (Surkhet) From Kathmandu, Pokhara and other major cities of Nepal by bus. From there you can procedure your trip to Rara Lake. From Nepalgunj or from Birendranagar you can choose means of roadways to Sinja (If you want to trek a day long to Rara from there) OR, Gumgadi (district headquater of Mugu) you need to walk around 2:30 or 3 hrs. If you take way through Sinja you would have additional entertainment of treking. The roads are narrow and the travel is experienciable fixed with feeling of beauty of nature and threatening ways above mountain and Karnali river alongside.
By Air
You can reach to Nepalgunj by Air from Kathmandu. Nepalgunj to talcha Airport it is regular ie. daily (May not if weather is not supportive).
At a Glace
Day 1: Reached Nepalgunj (Banke) or Birendranagar (Surkhet) from any major cities of Nepal. Travel time may vary based on city you are in. From Kathmandu it takes about 18 hours.
Day 2: ON the bus to Rara* (stay on way at night) (#not allowed to move ahead during night)
Day 3: Reached Sinja (Jumla) or Gumgadi (Mugu).
Day 4: Sinja – Rara** at one long day if you can walk in hill. It is not recommended to those who are weak, ill as the way is very much Steeper. People reaching in Gumgadi (Mugu) have to walk about 2-3 hours of gentle walk to Rara Lake.
Day 5: Finally, You would reach Rara Lake, a piece of heaven.
If you need any more information we are here to help you Just comment below. How to Reach Rara Lake Nepal, Rara lake Trekking Enjoy the trip.
*Bus may either upto Gamgadi (headquater of Mugu district, from where about 2 hours walk distance to Rara Lake) this type of direct bus are rear to get that depends on season and condition of the way. You can hire Jeep if you like and affordable.
*Cont… Or else if you like to take a trekking experience then it would better to take a bus to Sinja (Jumla) be sure sometimes reached only upto Nagma(Kalikot) or towards Khalanga Bazaar (Jumla) from Nagma, you need to change for Sinja. Most people prefer staying in Sinja there after trekking towards Rara Lake next day and I would like to recommend you If you really like treaking.
**Trekking in the steep hill is challenging for the unexperienced one thus not recommmented for sick and weak people. Sufficient water should be carried with dry foods as it would may cause difficult to reach you in lunch place in time  as no lodge and resturant in the way. It may takes an average of about 6/7 hours gentle walk.
**Cont… If you can't reach Rara Lake and you have no time remain to move ahead then you can stay in Mugurara village homestay which is outside Rara National Park. From there you have to take about 2 hours 30 minutes.