Dashain दशैं/बडादशैं- Vijaya Dashami-बिजया दशमी
During the month of Kartik (late September and early October), the Nepalese people celcbrate the biggest festival of the year, dashain commonly known as Badadashain – बडादशैं Or Vijaya Dashami – बिजया दशमी is the 15 day long national festival of Nepal. Among them 1st, 7th, 8th, 9th and the 10th are most important. The fifteen days of celebration occurs during the bright lunar fortnight ending on the day of the full moon.
Dashain commemorates a great victory of the gods over the wicked demons. One of the victory stories told is the Ramayan, where the lord Ram after a big struggle slaughtered Ravana, the fiendish king of demons. It is said that lord Ram was successful in the battle only when goddess Durga was evoked.The first nine days signify the nine days of ferrous battle between goddess Durga and the demon Mahisasur. The tenth day is the day when Mahisasur was slain and the last five days symbolise the celebration of the victory with the blessing of the goddess. Dashain is celebrated with great rejoice, and goddess Durga is worshiped throughout the kingdom as the divine mother goddess.
Day 1: Ghatasthapana: A small rectangular sand block is made and the kalash is put in the centre. The surrounding bed of sand is also seeded with grains. By the tenth day, the seed will have grown to five or six inches long yellow grass. The sacred yellow grass is called 'Jamara'.
Day 7: Fulpati: n fulpati, the royal kalash filled with holy water, banana stalks, jamara and sugar cane tied with red cloth is carried by Brahmans on a decorated palanquin under a gold tipped and embroidered umbrella.
Day 8: Maha AsthamiThe night of the eighth day is called 'Kal Ratri', the dark night. Hundreds of goats, sheep and buffaloes are sacrificed at the mother goddess temples.
Day 9: Maha NavamiTemples of mother goddess are filled with people from dawn till dusk. Animals mostly black buffaloes are slaughtered to honour Durga the goddess of victory and might and to seek her blessing
Day 10: Bijaya Dashami The tenth day of the festival is the 'Dashami'. On this day, a mixture of rice, yogurt and vermilion is prepared by the women. This preparation is known as "tika".Elders put this tika and jamara which is sewn in the ghatasthapana on the forehead of younger relatives to bless them with abundance in the upcoming years. This function continues for four days. After four days of rushing around and meeting your relatives Dashain ends on the full moon day, the fifteenth day.
Just for you:
भाग्य चम्कोस सबैको,
सबैको होस् सुख सम्रिद्धी,
सुख शान्तीको बास होस् चारै तिर
माता दुर्गाको आशिर्वाद रहिरहोस् सर्बदा
बिजया दशमीको येही छ शुभकामना
Don't forget to wish us!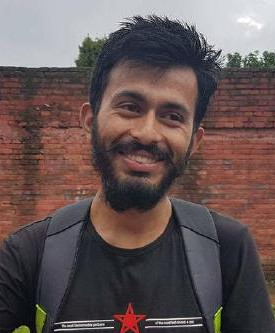 This is Sagar Devkota Co-Founder of Time and Update. I write about Online Earning, Blogging, Web Hosting, Domain Registration, local technical news and some time about Cryptography. I also write about Git, Database, Java, Android, Linux (ubuntu). Studying Bachelor of Software Engineering.