Institute of Forestry (IOF) Pokhara 
IOF is fully committed to education and training in the field of forestry and natural resources management. It was established as Nepal Forestry Institute in 1947 under the government of Nepal within the Department of Forests at Singh Durbar in Kathmandu. It was moved to Bhim Phedi in 1957 and then to Hetauda in 1965 for the purpose of developing better physical facilities constructed by the support of Indian CO-operation Mission (ICM). After the establishment of Tribhuwan University this institute merged into Tribhuwan University in July 1972 under the name of "Institute of Forestry". It's central campus of forestry Pokhara Campus and the infrastructure for Dean's Office are built in Pokhara, Kaski with technical and financial support of the World Bank, International Development Agency (IDA) and the United States Agency for International Development (USAID).
Institute of Forestry (IOF) Pokhara Campus
Central Campus of IOF Pokhara Campus is situated in the lap of the natural beauty of the Pokhara.
The Academic Programs run by Institute of Forestry (IOF) Pokhara Campus are as follow:
(a) Ph.D. in Forestry 
Duration: minimum 3 years
Courses:
Research based program in forestry and allied subjects.
(b) Master of Science in
i) Forestry (FOR)
ii)Natural Resource Management and Rural Development (NRMRD)
iii) Watershed Management (WM)
Duration: 2 years
Campus: Pokhara Campus
Intake Capacity: 58
Courses:
NTFP, Community Forestry and Governance, Natural Resource Economics, Global Environmental Change, Advance Silviculture, Biodiversity Conservation and Protected Area Management, Economics of Development and Finance, Society, Culture and Forestry, Watershed Management, Soil Genesis and Geomorphology, Agroforestry, Statistical Method and Data Management, Ecotourism Planning and Management, Sustainable Forest Management, Biometrics, Wildlife Biology, Rural Development, Conservation and Rural Development, Soil Conservation Engineering and Watershed Rehabilitation, Research Methodology, Geographical Information Science, Advance Forest Ecology, Watershed Hydrological Issues, Project Management,Forest Protection, Bio-energy, Programming C++, Conflict Management in NRM and Experiential Learning.
(c) Bachelor of Science in Forestry
Duration: 4 years
Campuses: Pokhara Campus
Intake Capacity: 80
Courses:
Forest Extension & Communication, English for Forestry, Surveying and Engineering, Forest Mensuration, Forest Policy and Law, Sociology for Forestry, Introductory Agroforestry, Physics for Forestry, English for Forestry, Forest Botany, Forest Zoology, Mathematics for Forestry, Chemistry for Forestry, Introductory Silviculture, Basic Economics, Field Training, Forest Management, Introductory Forest Products Utilization, Introductory Soil Conservation and Watershed Management, Wildlife Management and Eco-Tourism, Community Forestry, Forest Surveying, Forest Statistics, Forest Geology, Wildlife Biology, Plantation Silviculture, Tree Improvement Silviculture, Tree Physiology, Forest Ecology, Forest Economics, Forest Hydrology, Soil Science, Forest Engineering, Community Based Forest Management, Forest Protection, Air Photo Interpretation and Photogrammetry, Forest Harvesting and Logging, Soil Conservation Engineering and Watershed Management, Experimental Design for Forestry, Tourism and Recreation, Digital Remote Sensing, Forest Management, Forest Products Utilization, Wildlife Conservation, Advance Silviculture, Watershed Management, Agroforestry, Range Management, Protected Area Management, Environmental Science, Community Forestry, Research Methodology for Forestry, Student's Seminar, Research Works Project Paper.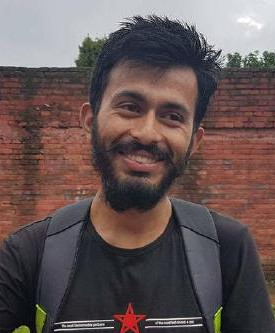 This is Sagar Devkota Co-Founder of Time and Update. I write about Online Earning, Blogging, Web Hosting, Domain Registration, local technical news and some time about Cryptography. I also write about Git, Database, Java, Android, Linux (ubuntu). Studying Bachelor of Software Engineering.