What language is spoken in nepal
Nepal is an incredibly diverse country with respect to culture and language. The 2011 National census lists 123 language spoken as a mother tongue (first language) in Nepal. The Primary Language of Nepal is Nepali. Nepali is an Indo-Aryan language. Firstly Nepali Language is Khas language. Then it was Called Gorkhali. Now it is Called Nepali. Nepali Language have a Great Development in Literature.
Nepali as A Official And Primary Language in Nepal it is Most Used. For The Visitors Many lodges Hotels are Established Which can support with English Language. Also For The Visitors from Some Country There is Certain Hotels that they can Serve in Their own Language But Knowing The Basic in English Will be enough to visit Nepal as Peoples are Helpful here they won't let you a chance to worry about.
Nepal Famous World wide for Tracking, Mountain Climbing, Bungee Jumping, Paragliding, Rafting. And many more.
Greetings
| English | Nepali |
| --- | --- |
| Hello | Namaskar |
| Nice to meet you | Tapai sanga bhetey-ra khushi lagyo |
| How are you? | Tapai Sanchi-hunu-huncha? |
| My name is Ram | Mero naam Ram ho |
| I am from Japan | Ma Japan bata ho |
| Good morning to all of you | Subha prabhat sabai lai |
| Goodnight | Subha ratri |
| Day | Diu-so |
| Evening | Saajh |
| I am thirsty | Malai teer-kha lagyo |
| I am hungry | Malai bhook lagyo |
| Tasty | Mitho |
| I am sorry | Maaf garnu hos |
| Where is bathroom? | Sau-chalaya ka cha? |
| Thank you | Dhan-ya-baad |
Nepalies always Care This "अतिथिदेवो भव" ('The guest is equivalent to God' or 'Be one for whom the guest is God')
Your Always Welcome to Nepal.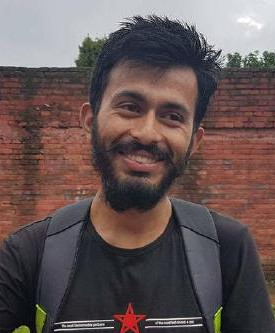 This is Sagar Devkota Co-Founder of Time and Update. I write about Online Earning, Blogging, Web Hosting, Domain Registration, local technical news and some time about Cryptography. I also write about Git, Database, Java, Android, Linux (ubuntu). Studying Bachelor of Software Engineering.