Hello friends after very long i am here with you to inform you that the dots in the email address of your account has no meaning at all. Dots Have No Meaning in Gmail Yes time.and.update@gmail.com is similar to timeandupdate@gmail.com or time.andupdate@gmail.com or T.i.m.e.a.n.d.u.p.d.a.t.e@gmail.com is same. we can receive email no matter how much dots Use in between TimeandUpdate.  You can receive email to your email if also the email contain one ore more dots in between your username.
Advantages:
When you want to make a multiple online account you can use your single email. Like if you want to create two account on some online forum you can use same email with multiple dots in between email. Its great that you need not to create and manage more email accounts. Now if you create a account in some website and forget the password you can again sign up to that site using the same gmail address. everything will be as usual. All the emails send to the email with any extra dots comes to you. Google will display you some message for the first time as Image Posted above. if you receive emails all the email are for you don't think it is of  others.
But missing or adding of some number or alpha is different just as some number different in phone numbers. if you miss some number or alpha remember you just dial a Number with one number wrong. its gonna ring to to others phone. Remember only Dots Have No Meaning in Gmail only in Gmail.
You can try it by yourself. Give a try. Go to login and Add dots in your email address and enter the password. You will be on the same email. Its not only while sending emails its also when you login to Googel account too. Now you can enjoy more of internet with a single gmail. Give us a comment if you know Some other Idea or any Issues here.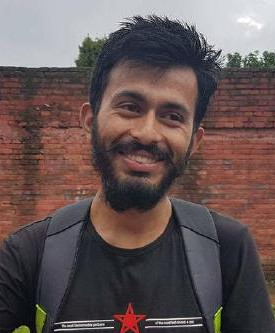 This is Sagar Devkota Co-Founder of Time and Update. I write about Online Earning, Blogging, Web Hosting, Domain Registration, local technical news and some time about Cryptography. I also write about Git, Database, Java, Android, Linux (ubuntu). Studying Bachelor of Software Engineering.