Every expert was once a beginner, you should go through and Never give up. In this internet world the most powerful thing is Words, and through blogging you are with the most powerful tool. Blogging is very enjoyable however some peoples consider blogging as a boring work. Blogging can make you successful, bloggers gets respects just as celebrities. We should not forget the hard work to be done too. Blogging is not only about how much you earn every day, its about how much you could help other. So to get long term success on blogging you should enjoy helping peoples. Here is Questions by Novice Bloggers and my Answers , I try to give a better answers for those questions and some of them are those i used to think about.
I want everyone to start blogging, its a way to connect globally check Why and How to Start Blogging. Starting and establishing a blog is not that much hard. Making meaning full writings as need of visitors is the most. Daily hundreds of new blog are started and are shutting down too. Never limit on yourself keep going and never give up. I used to ask myself some common questions that you are asking yourself as a beginner and Here my answers goes
Blogging platform
The first question arises is what blogging platform to use for blogging? Blogging is about writing some content and it should reach to those targeted users through whatever means. So blogging platform should be wisely chosen. To get started in any field you should gain some ideas about that field. You should know some blogging terms and Blogger is a best way to learn all about. Being free, easy to use and many more. And after some months I suggest you to move to WordPress, self hosted version of wordpress. where you have full control of your domains. There are many developers who works for better blogging and many Plugins are developed as need of blogger.
What to write
Its looks like Everything are already covered by other bloggers, there is no articles to write about. Is there new contents available? How to make contents? If you can not get new topics to write about there may not be new topics out there. Write contents in your words which could give a value to visitors. There may not be more topics but remember there are 100s of people which are unknown about those things. Everyday new technology is emerged. New topics comes into trending. you should catch those and share it with your visitors.
Length of a blog post
How much long a blog post be? This is What I always think of. Blog post with 300 words are OK. You should Cover the topic and should give straight what visitors want from that post. So don't try to extend your post just to count the words. Blog posts with 500 – 600 words are considered to be best for SEO. The more words the more chance to get indexed on top on search engines. Google Will rank the blog with 1000 – 2000 words as good articles. Research based articles are considered to be best for good ranking and indexing. Length are considered to get more traffics don't just extend post to make it longs. Quality should be mentioned relation between you and your visitors should be long term.
Readers
How do I get readers for my blog? Readers is all what we want. Every bloggers want their contents to be useful for other users. Ask with yourself Is your content trust worthy. If not no one will read your blog. Keep writing nice articles and you will get what you want. If you write good article you should not search for readers, Readers will find you. I don't mean your articles BAD. May be they are not reached to those who need it. You can use social share, Comments on other tech related blogs. Join Groups in social network and give your link who asked for what you had already written. Also you can get What to write idea.
Update of blog
How regularly you blog should be updated? Be regular, Regular blog earn more reputation and Traffics. Regular update don't mean Everyday update. But should be updated in regular basic. Posts per week or per day all depends upon you. But you should update your visitors about what had happened in the field that your blog is based on. No information should be missed by your regular visitors on the topic your blog is.
The more posts the more Traffic your blog will get. Blogs traffic has a direct relation with the amount of your posts. If you write a lot of post in a day then that is good and you will get a lot of traffic. But you have to maintain your post quality. A unique and fine quality post is good for SEO.
Two or Three post a week will be find. Update your blog Whenever you got your time. Don't forget to update old posts as needed.
How to make Money
When will my blog start earning? When will Google Adsense be approved? Can my blog earn Instantly? Yes Your blog can start giving you earning for you. You should focus on providing good articles to your visitors and there will be no 'no earning' for your blog. I do have friends whose adsens was approved just in a month. And you should focus on your contents. Give valuable information to the visitors Give as much as possible article of your selected topic. That's all. But just Don't make making money as your priority, you wont be succeed then. Affiliate link on your blog can support your too.
My Suggestions
Here goes my Suggestions to every Newbie Bloggers. Things are not always as you wishes. You may not can use your full potential. So start a blog Focus on contents write write and write. Stay focused of a wide topic. Read and Read that makes your able to understand and you can write yourself. Why you start blog? and your answer should be To help/share info with others, to improve your writing. Focus on what your are domain make useful posts. Find some people to respect and follow. Don't expect billions of dollars Aim for millions instead. So stay Focused. Always have fun. Take blogging as hobby not as a Job or Work to be completed.
Here are some Common usually asked questions by beginner bloggers and my answer. Don't stops reading you will be guided and can go more far ways. have good day enjoy Blogging! Questions by Novice Bloggers and my Answers 🙂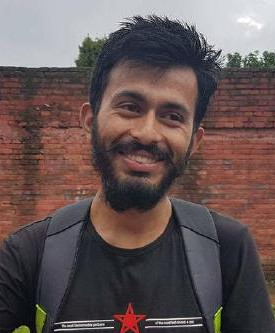 This is Sagar Devkota Co-Founder of Time and Update. I write about Online Earning, Blogging, Web Hosting, Domain Registration, local technical news and some time about Cryptography. I also write about Git, Database, Java, Android, Linux (ubuntu). Studying Bachelor of Software Engineering.