Domain is a unique name in internet which determine it's resource. It is used to identify one or more IP addresses. Domain name are used as URL to determine a particular webpage. We visit many website, and some of we want to have own website also. For that you need to have domain. And being in Nepal you can't buy Domain as we can't send money outside Nepal. (Now days It is available but don't think it is as  Cheapest as it need to be.). Or you may want a free one. Free Domains In Nepal
Today you will find list of all free domain available for Nepal With way to register In it.
.np Domain
Being in Nepal we mustn't forget .np domain. It is completely free. .np is the Internet country code top-level domain (ccTLD) for Nepal. Anyone Can register .np domain. Remember name space is undertaken on a First Come – First Served basis (except in cases where it infringes upon a registered trade names) You need to verify yourself Commonly If a person want You need to provide your citizenship certificate or passport or driving license or voter's card. View Register .np Domain for Free to register your domain in .np.
.tk Domain
 This is a full free top-level domain name. Now it can be registered under  Freedom Registry. It is Free, TLD,  Indexed in Google, GeoTargetable. And  support A, CNAME, MX and NS  DNS Records. It take it's domain back if it get 100 hits per day. Register From here http://www.dot.tk/en/index.html?lang=en
.cu.cc
 It is a relatively new free sub-domain provider. It is one of the famous Sub-domain. It is Free, Indexed in Google, GeoTargetable. It Support IDN. Also A, CNAME, MX, NS, SOA, TXT DNS Records. Register From here http://www.registry.cu.cc/?ref=blank
.uni.me
It is another famous free sub-domain provider. It is Free and GeoTargetable. It support IDN. Also A, AAAA, CNAME, MX, TXT DNS Records. Remember it automatically deleted after 10 days without traffic. Register From here http://uni.me/
And There are more other free domain But Famous and best one are listed above. Among them .np domain is best as it will be always yours. Other Free Domains are . .ga, .eu.org, .rr.nu, .za.pl, .usa.cc, .ml, .cf, .ga, .nom.za, .ze.cx, .zid.dj, .pp.ua, .ven.bz, .iz.rs, .co.vu, .de.nu, .slx.nl, ipq.co, .de.pn, .at.vc, .at.hm, int.tf, .eu.mn, .de.iv, .biz.ly, yi.org  You can register all these free domains free of cost.
To make your own website you need to find Web Host provide too. Both Domain registration and hosting should be done hand by hand. Looking for 
Free Web Hosting In Nepal
. Free Domains In Nepal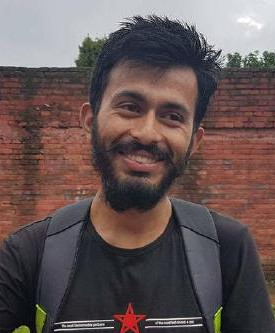 This is Sagar Devkota Co-Founder of Time and Update. I write about Online Earning, Blogging, Web Hosting, Domain Registration, local technical news and some time about Cryptography. I also write about Git, Database, Java, Android, Linux (ubuntu). Studying Bachelor of Software Engineering.