.np Domain is a country code top-level domain (ccTLD) and domain registrations under .NP ccTLD is free of cost for the citizen of Nepal or Organizations with in Nepal. Domain is a unique name in internet which determine it's resource. It is used to identify one or more IP addresses. Domain name are used as URL to determine a particular webpage. We visit many website, and some of we want to have own website also. For that you need to have Domain Server and Web Hosting server. Here you will get a full guide on Register .np Domain for Free lifetime. For you can view our previous article 
Free Domains In Nepal
 and 
Free Web Hosting In Nepal
.
Today here is tutorial about register .np domain.
Register .np Domain for Free
.np is the Internet country code top-level domain (ccTLD) for Nepal. Anyone Can register .np domain. Remember name space is undertaken on a First Come – First Served basis (except in cases where it infringes upon a registered trade names).  For registering .np domain follow the following process:-
As in Image Enter the domian name you want and select the suffix you like.
If that Domian is Available you see Domian Available Drag this block to basket. So Click and hold there and move your mouse towards Basket and release it.
Your Domain is Added !
Now Register With Username and Email. and Click Register
You will get email on that email address if It is approved.
Remember, You need to verify yourself to get Domain.
I remember When I ask them for a domain they say
"Your domain name must be as your name, your name is Sagar
. so, you need your domain as sagar.com.np not as maruvimi.com.np"
You need citizenship card or license or voting card.
After you click register you will find these below page as shown in image.
Name Server and Hosting
Most people have issues with this two fields Primary Name Server and Secondary  Name Server. For easy process you can use DNS managing tool. Godaddy Off site DNS (My Recommendation)  For that you need to create your account on Godaddy and add your domain in Off site. Video below is all about it you can check it. So you just can use  These two nameserver: mns01.domaincontrol.com and mns02.domiancontrol.com Check this video https://www.youtube.com/watch?v=o9PngbT5C8Q
To get .np domain approve you need to Upload your Scaned copy of Citizenship card or license. Before uploading you need to rename that file name as "yourname.com.np_citizenship.jpg" If you are asking to register yourname.com.np domain through Citizenship card. (if your name is Sagar and want to register as sagar.com.np through your citizenship card that file name shuld be Sagar.com.np_citizenship.jpg) click in select files and select your scanned file and now as shown in image click in play sign.
Now You need to Visit Host provider to Host this website. You may think how do i host my website to host,  here is the answer. You can host this website to your hosting server, as you sign up in host, they provide you name server enter that name server in the field. To make a host for your website select Best host from 
Free Web Hosting In Nepal
 and visit 
Host Your Website for Free
 to create your webhosting account. From there you get Name servers and IPs. Then insert the primary and secondary name server in the field (Here IP need not to be inserted) and click Update.
You need to wait for 3 working day to get approved/unapproved your website. After your Website get approved Go to Host and manage your website.
Reason for unapprove of your domain:-
Domain name must match to your name. (ie the name that is in citizenship card/license)
File may be invalid. it must be .jpg or .png
You can check this video for all the process above.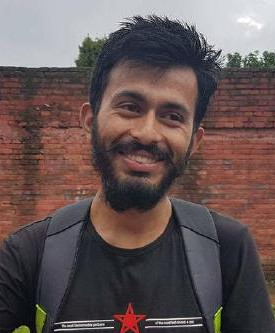 This is Sagar Devkota Co-Founder of Time and Update. I write about Online Earning, Blogging, Web Hosting, Domain Registration, local technical news and some time about Cryptography. I also write about Git, Database, Java, Android, Linux (ubuntu). Studying Bachelor of Software Engineering.