Payoneer is a best payment gateway. It is the one of the world popular electronic payment process, which have not limits for users in Nepal as in Paypal. The card I applied for the first time was of now use, and I was not I need of that during that time. When I started in this internet world I am in need of Master Card and Payoneer was only option for me. I again applied for new card. The old may/ may not had expired. But will expired soon.  And I got my new card with in 30 days. I heard of many people unable to get the card. The reason Is Address error and you must visit post office regularly to check. So here is My Experience with Payoneer Master Card Nepal to Get a free Payoneer Master Card in Nepal
This Post is Outdated and will be removed soon.
To Create account just visit to Payoneer official website.
Referral links are Removed.
Payoneer:-
Payoneer is a popular payment solution which makes sending/receiving payments seamless. Widely popular in non-US countries, Payoneer targets a huge market of freelancers, professionals and entrepreneurs who offer their services online.
When you signup for Payoneer, they'll give you a free virtual US bank account number (most probably Bank of America) and a free MasterCard prepaid debit card (shipped to your location) as well. In short, you can provide your virtual account number and the routing number to any US company to receive funds via US Payment Service (ACH).
Companies like Upwork, Teespring, Freelancer, Airbnb, Google etc offer Payoneer as a payment solution to transfer funds. (Remember, if your US company doesn't use ACH for funds transfer you won't be able to receive money)
Payoneer had recently launched beta version of its EURO Payment Service that uses SEPA to receive funds from European companies.
US Payment Service:-
This valuable service allows you to receive payments in USD from American companies – as if you have an US bank account! This Service is Pre Activated in your Account (Payoneer is for this service). As you Register in payoneer and get Prepaid Debit Master card you need to active the card with the number of your card. After Your account is Activated Payoneer will create a Virtual US Bank Account for you and provide you.
My US Payment Service Information:
Bank Name:
First Century Bank
Routing (ABA):
061120084
Account Number:
XXXXXXXXXX013
Account Type:
CHECKING
EU Payment Service:-
I also had involved in some European companies for freelancing job and other purposes, I need euro banks and EU service helps me out for this.
This valuable service allows you to receive payments in Euro from European companies – as if you have a local bank account! This service is not Pre Activated but you need to apply for this service If you need Financials transaction with European Companies. We will post about how to apply for EU Payment Service in out Future Posts.
MY EU Payment Service Information:
Bank Name:
Wirecard
BIC:
WIREDEMM
IBAN:
XXXXXXXXXXXXXXXXXX4251
Bank Country:
Germany
Payoneer and Paypal verification.
Q: Can i Verify my Paypal instantly after i get my Payoneer Card and Activate my Payoneer Card?
A: No! You need $1.95 in your Payoneer Account.
You can't verify your Paypal instantly as you get Payoneer Master card and Activate it. because Paypal will charge 1.95 $ while verifying your Paypal using payoneer. Paypal will Refund it back with in 24 hr. So How to earn Fund in Payoneer?
If you create account directly from Payoneer website You need to add Fund But If you Create Account from Refereed link you and referred will get 25$ Bonus. So if you want to create account follow this link.
Sign Up to Payoneer And get 25$ Bonus How to Get Payoneer in Nepal Is it Possible?
Get Started
Yes You can Get your Payoneer Card Anywhere in Nepal But you need to fill the form Correctly. Without Any Mistake.
Visit This Link Here And Click on Sign Up & Earn $25
Getting Started
Fill your name email And Date OF Birth ( all Need to be similar to Your Citizen ship Card  Date of birth as listed on your government-issued ID. You must be over 18 years old to apply.
Contact Details
Then Fill Your Local Area Name (Khudi For Me) Then Add the local name of the place where the post office is.
Then Name of the City "Lekhnath"
Zip/ Postal Code Check Postal Code in Nepal. Find the Nearest Area.
Fill Your Own Local address in Street address and Fill the name of local address of the location where the Post office is located in the second field of the street address.
Security Details
Select a strong password. Re enter it. Select a Question and an answer you need it. You need the security answers during contacting from supports too. So Keep it easy from you to remember hard for other.
Almost Done
Select Id type
Fill The For according to your Identity.
Fill the Card number in National ID (National Id Will be Better selection as i do so.)
country of issuer: Nepal (your Country)
If you are somewhere in other Location away from your home land. (The address in your ID you provided) Select Alternative Shipping address And Fill The Form Accordingly.
Get a free Payoneer Master Card in Nepal Now if you need Funds In Payoneer Contact Us. From Contact Page Or Just Comment bellow. Send me Funds From Banks or Direct I will send you in Payoneer As you need funds For Verification With Paypal and other stuff. If you want to verify PayPay. It is better not to select Nepal in Paypal. As there is Limit in Paypal account from Nepali users (Can Send Funds but cant receive). Have A Great Days Ahead.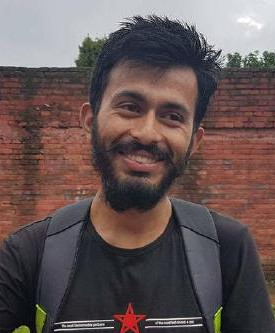 This is Sagar Devkota Co-Founder of Time and Update. I write about Online Earning, Blogging, Web Hosting, Domain Registration, local technical news and some time about Cryptography. I also write about Git, Database, Java, Android, Linux (ubuntu). Studying Bachelor of Software Engineering.