Bhadragol is a popular Nepali comedy serial with interesting characters Jigri Bro, Bale, Cockroach, Jayante, Pade and others. Subash Karki who is playing as Bilase in the serial is the producer of Bhadragol which is being directed by Shankar Acharya. It is only First Comedy TV show Which is best and popular among Nepali people in the short period of time. Mostly now day's local comedy actor (I mean friends who can caricatures other's voice are making fun with Pade's Voice.) Most people Never miss to watch This program. Here is a very better way to get Bhadragol online. Nepali Comedy Bhadragol this week was really Comedy I enjoy it too Much.
The only Chance to Get Bhadragol video online Uploaded at Youtube is to Search the Bhadragol in youtube. If you had Missed Bhadragol on TV This week Visit the following it will direct you to the Latest Video uploded with other videos related with bhadragol on this week.
भद्रगोल Youtube मा पाइन्छ। तलको लिइ्क किलिक गर्नुहोस। यो हप्तामा youtube मा राखिएका सबै भद्रगोल सम्वन्दित भिडियो यहा आउछ। भद्रगोलको भिडियो अरु साइटमा राख्न नमिल्ने बनाइएको हुनाले यो बाहेक अरु उपाए छैन।
Bhadragol Uploded This Week on Youtube
यो हप्तामा youtube मा राखिएका सबै भद्रगोल सम्वन्दित भिडियो
You will get the latest (Uploded within this week) so that you can check it. If you dont find the video of Bhadragol in the above link. The Official publisher Media Hub Pvt. Ltd had not uploded the video till. You can Check the Media Hub Youtube channel for other Comedy serial Meri Bassi, Hakka Hakki and other more From the following Link
मिडिया हवको यो आफ्नै Youtube चेनल मा चेक् गरनु। यो बाहेक अन्त कुनै नया भाग हुदैन। यो चेनलमा अरु कार्यक्रम जस्तै मेरि बास्सै, जिरे खुरसानि र अरु अरु मिडिया हवका कारेकरम पाइन्छन। 
I Hope you will enjoy the missed Bhadragol from youtube online. Have a Great Days a head. Check out Blog Time and Again. Dont forget to give Us a Thanks via Comment bellow.
Nepali Comedy Bhadragol this week 2016
बुझनु भएन भने sagar@timeandupdate.com मा इमेल गर्नु वा  फेसबुकमा  Devkota Sagar मलाइ सम्पर्क गर्नु होला।  या टुइटर्मा @info_devkota ।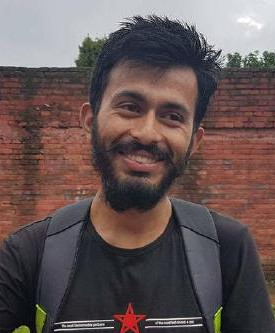 This is Sagar Devkota Co-Founder of Time and Update. I write about Online Earning, Blogging, Web Hosting, Domain Registration, local technical news and some time about Cryptography. I also write about Git, Database, Java, Android, Linux (ubuntu). Studying Bachelor of Software Engineering.