Many of you had involved in hype sites but for using those sites you know the risks and invested there. But today I revive an email which was not blocked google i mean it was not on the Spam folder but looking on it carefully k figure out that it was a planned spam. The email was from http://blockchaln.info/ which looks similar to blockchain.info. and also they had used all the logo of blockchain.info Be aware of Spammers Blockchaln 150% to 300% return
From: noreply-smtp95848@blockchaln.info
subject:  BLOCKCHAIN  INVESTMENT Ltd
Here is the preview of that message
BLOCKCHAIN GLOBAL INVESTMENT LIMITED
Conditions:
1. We will accept investments until January 11, 2017 at 11:59 PM.2. You can invest from 0.25 to 10.00 Bitcoins.
3. We only accept 1 investment per bitcoin address, so choose carefully the amount that you want to invest.
4. You will receive the profit of 150% to 300% of your investment.
Examples: Currently investing 1.00 bitcoin, you will receive on January 14, 2017, from 1.50 to 3.00 bitcoins. Investing 5.00 bitcoins, you will receive from 7.50 to 15.00 bitcoins on January 14, 2017.
Blockchain Investments LTD, reliable platform for small and large-scale investments. The assets of the Fund are diversified among emerging Forex positions on Blockchain Exchange.
To make the investment, transfer directly from your Blockchain account or exchangers. The bitcoin address for you to make the investment is:
3C1EmtKpVhemC6MmfdeR6KUFXcRBFN268C
This address is configured to automatically record transactions.
Note that our address always starts with "3C1E" which is the initials of Blockchain.
* If you send the bitcoins from your Blockchain account, the profits will be paid directly to your Blockchain account on January 14.
Done your investment will be validated and on January 14 you will be receiving your profit directly and automatically in your account, without errors and without delay.
Investment Guaranteed by: Blockchain Investment Ltd
Please be don't send any bitcoin in that address and inform block chain about this issue. IF you think its as a true first contact them to be sure.
On many locations they had used blockchain's logo and name also there is also unsubscribe button not to click there too. Be safe Be aware of Spammers Blockchaln 150% to 300% return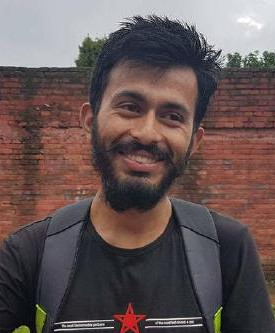 This is Sagar Devkota Co-Founder of Time and Update. I write about Online Earning, Blogging, Web Hosting, Domain Registration, local technical news and some time about Cryptography. I also write about Git, Database, Java, Android, Linux (ubuntu). Studying Bachelor of Software Engineering.