Google Adsense launched new type of ads, which use machine learning which will decide itself where to place the ads at optimal times. Which will improve the revenue earning and with good user experience for your visitors. With the power of machine learning it will display right ad at the right time to your right visitors. It would works just as Page-level ads, with your existing Google ads or independently. It will detect other ads, contents, page layout and place the ads in the appropriate place. Lets get started with google adsense with new auto ads.
Machine Learning
Machine learning is a way to learn, improve performance functionality and more, by computer system using the historical data without programmed. Machine learning takes a lots of data and analysis the data which produce reliable, repeatable decisions and results and that lead  themselves to prediction. Machine learning helps in achieving artificial intelligence.
Auto ads
auto ads is a ad formats that will monetize your content with a single piece of code in every page. Whenever you place a piece of code in your page, google will automatically detect what ads to be displaying when its likely to perform well. Auto ads will display ads format you selected on your site. It will automatically detect where to place the ads. You can select any or all of the In-page ads. Google will display any best matching ads in the format you selected.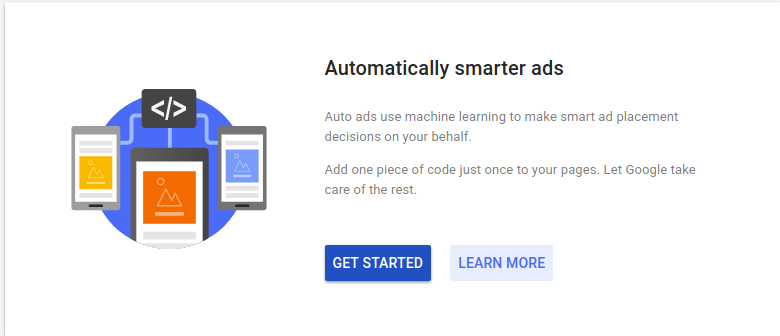 Get started with Auto ads
To get started with Google adsense Auto ads. First login to your adsense account, then click in the Auto ads in the sidebar menu. If it's first time in Auto ads, click in the get Started, else click in the edit (pencil) icon.
Then you will find something where you can enable ads format that to be served from auto ads. Enable the ads format you want. You can select any from Vignette ads, Anchor ads, Text & display ads, In-article ads, In-feed ads, Matched content. Select and click in save. If it's your first time it will give next page with the codes to be placed in your site.
Now Click in the SETUP AUTO ADS. You will get a code copy that and place it on your site. Now Auto ads will start its work. If you had used Overlay ads on your site. You need not to add any piece of code, as the code on your site would works automatically.
Why to use Auto ads
It's easy to use, You just place a piece of code and google will do the rest of the work. As it will display ads when they find it would perform well, it would increase your earning revenue and good users experience for your site. You can focus on creating contents for your site as ads would be automatically placed at appropriate place.
Check:- Best Free Email Hosting Mail Server For Your Domain
Url Group
You can set up Auto ads different for other domain or subdomain. To set Auto ads for special url click in NEW URL GROUP. Now you can select url for a group. Select a domain or its subdomain from the drop down arrow. and click next. Now select the ads format to be displayed in that special domain / subdomain.
Now you will be on Review section, Give a name to the URL group Conform the url and click in the SAVE. You Need to add the code if you had not added in that page.
Auto ads for AMP pages
You can use Auto ads on AMP pages too, for that you need to use AMP Auto ads, which are currently available on AdSense Lab.
Layout issues
Google Auto ads could generate some Layout issues. Google would search for some element from the page and place ads on them. As Auto ads says google will do the rest of the work, it would find some appropriate most interactive place to place the ads code. For me the Auto ads creates a lot of white space at the bottom of the page, without any contents.
Conclusion
Auto ads is New in Google adsense, which will automatically find the place to place the ads and display. Now Google will automatically display ads on appropriate location. Now site owner on wordpress need not to write codes to insert inside of the post. Blogger users also could easily display ads inside of posts. Google Adsense with new Auto ads.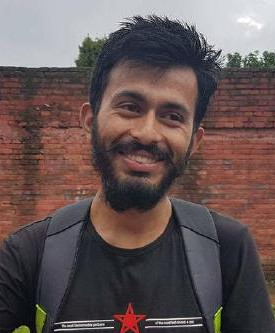 This is Sagar Devkota Co-Founder of Time and Update. I write about Online Earning, Blogging, Web Hosting, Domain Registration, local technical news and some time about Cryptography. I also write about Git, Database, Java, Android, Linux (ubuntu). Studying Bachelor of Software Engineering.