On every December Facebook releases the year review, where Facebook publish highlighting the top ways people around the world engage through facebook. This year again (as also on 2017) most talked about moment of the year was March 8 International Women's Day. Some other popular topics include March for Our Lives event, World Cup, The Royal Wedding, Avicii, Stephen Hawking and more. Also every year facebook allow its users to share their years review through personalized video for every users on facebook. This year those personalised videos will be available to users starting from December 10.
Introduction
Facebook first introduced facebook Year in Review 2012, which is a look back at the people, moments and things that created the most buzz in 2012 among the billion people around the world on Facebook. During 2012 facebook list topics based on Events, songs, movies, books and more.
Facebook list topics based the users reactions and trending topics. As mentioned by facebook these are the most globally discussed topic of 2018 in Facebook. March 8 International Women's Day, was one of the most discussed topic in facebook in 2018. March for Our Lives was another hot topic, a event took place on March 24, 2018, in Washington, D.C, with over 880 sibling events throughout the world. The theme was Gun violence awareness Support of gun control because of the Mass shootings in the United States. Brazilian Presidential Election and the US Midterm Elections was another top discussed topic in facebook this year. The Royal Wedding of Prince Harry and Meghan Markle on May 19 was also one of the hot topic in 2018.
World Cup this year is another most discussed topic in facebook 2018. According to facebook 383 million Football fans from around the world created 2.3 billion posts, comments, reactions and shares. And France's World Cup victory on July 15 and England's Semi-Final match against Croatia on July 11 were two of the top most-discussed moments of the year. Super Bowl 52 was another top topic of 2018 in facebook.
Some of the famous figures being shared on facebook post are. July 18 marked 100 years since Nelson Mandela was born, There were lots of posts on Mandela's life of dedication to human rights and social justice. This year world lost some of the most influential people,  Avicii, Aretha Franklin, Stephen Hawking. People around the world shared millions of posts on Facebook to memorialize the global impact and work of these individuals.
How is Top List Determined?
The lists are determined by the number of topic being discussed in facebook every single day between January 1 and November 11, 2018. There is what facebook mention as the Methodology being used:
The top moments of this year's Year In Review were determined by gathering a list of the top keywords by volume mentioned in a single day on Facebook between January 1 and November 11, 2018. To identify which topics were unique to 2018, we compared these keywords to the previous year's maximum single-day volume. This means that keywords like Mother's Day and Halloween, which typically represent the top moments every year, do not repeatedly appear at the top of the list.
How to Make a Year in Review 2018 Video?
As every year there will be personalized video for every users in facebook. Starting on December 10 users can see their personalized video in the news feed. As Facebook Bring recently All Memories in One Place, also facebook year in review will be available in the memory page in the facebook which can be accessed through  https://www.facebook.com/memories.
Once you are in the memories page of facebook, you may find the video or the message saying that your video is being made. It may take lot of time. Video were able to accessed starting on dec 10. And some users are not getting the video till. You can edit the video before sharing. Learn more How to make year in review video.
Some of your photos will be used in the videos, you can edit and select the images and event you want to be included in the video. It also counts the number of friends you made this year, you can select some of the friends to be included in the video.
Here is the sample of the personalized video
Facebook also creates videos using images posted in your facebook, you can access them in the same memory page. You can learn about How to Share memory in Facebook.
Conclusion
As usual facebook introduce it's year in review program, will for now they just publish the list of top topics being discussed this year. But for your personalized video you need to wait till 10th of December.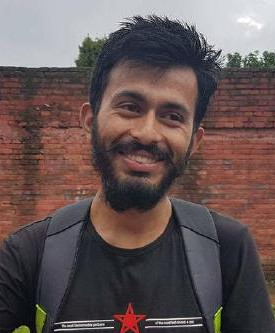 This is Sagar Devkota Co-Founder of Time and Update. I write about Online Earning, Blogging, Web Hosting, Domain Registration, local technical news and some time about Cryptography. I also write about Git, Database, Java, Android, Linux (ubuntu). Studying Bachelor of Software Engineering.