Hello blogger users! Firstly i create a blog on blogger when i was on grade 9. and I think I made a great thing. I was always on hurry to come back to home and check the status of my blog. However all the posts on my blog were used to be from other sites that were interesting. I get to know that .np domian is free for Nepali users, I try for .np domain and search for some free hosting and make some html css Good looking homepage. One day when i was going through the blogger my eyes goes to Custom Domain. Make a search about it and here the conclusion is this post Set custom domain for blogger blog This post was initially names as Redirect your blog to your domain.
Why custom domain?
So first this is what you think about why i should use custom domain? And the answer is simple it shows your brand, it looks professional, and easy to share to friends "Visit my blog at myname.com" OR "Visit my blog at myname.blogspot.com" Check yourself. Lets start so. Registe .np domain for free Register .np Domain for Free.
First you need to know about DNS Domain name System Check this article Zone Records what? DNS Management. You need to create a zone record for your domain. If your domain is top level Domain there is no problem but if you are using CcTLD (Country code Top Level Domain) your domain registrar may not provide DNS management facility (As in .np Domain) You can Use Godaddy's Off site domain check it Get Rid of MOS Approval delay .np domain.
Go to your blog and click on Basics under the Settings tab. In the "Publishing" section, click the link to add a custom domain.
Then type your domain name. you want to redirect your blog to. and Save it.
Now go to your domain domain registration website. then on DNS setting. (DNS management tool)  Then fill  Name or Source Destination or target on 14400 CNAME. fill "ghs.google.com" on target. On the given picture a blog is redirected to blog.devkotasagar.com.np
DNS Setting for blog to domain.
As from the image above my blog will be displayed on my Sub-domain blog.devkotasagar.com.np. You can use www or any in palce of blog as www and blog are most used. Set custom domain for blogger blog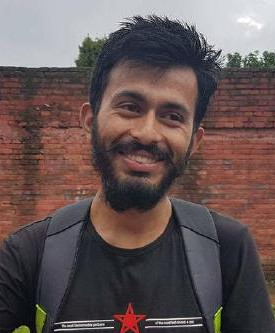 This is Sagar Devkota Co-Founder of Time and Update. I write about Online Earning, Blogging, Web Hosting, Domain Registration, local technical news and some time about Cryptography. I also write about Git, Database, Java, Android, Linux (ubuntu). Studying Bachelor of Software Engineering.