The Institute of Engineering IOE founded in 1930, is the first technical school of Nepal. In 1972, the Nepal Engineering Institute at Pulchowk and the Technical Training Institute at Thapathali were brought together under the umbrella of Tribhuvan University to constitute the Institute of Engineering. Besides producing low and tertiary level technicians, IOE runs professional diplomas, undergraduate, postgraduate and Ph.D. programs. The institute has four constituent and ten affiliated campuses all around Nepal. So How to fill up IOE entrance application form?
Note Please subscribers to this site, we will notify you when Further notice is published about Entrance Exam Date, Admit Cards. You can get other engineering related contents too.
IOE Entrance Exam 2075 / 2018
Institute of Engineering (IOE) has published notice for IOE Entrance Exam 2075. You can fill up the IOE Bank Voucher Starting from July 13. Where as online application can be filled up starting at 15th of July. You need at least C Grade in Every Subject, as Result has not yet been not published, this condition is applied from Grade 11. Here is a Informative blog post on IOE Entrance 2075 from Blogger Nepal IOE Entrance Exam 2075 / 2018.
There are other Universities with engineering program with scholarship Check Engineering in Nepal, A Bachelor's Degree.
IOE entrance application form
First of all you need Following Things Before Processing However you can come back and process again if you did not have the sufficient documents needed.
You Should deposit an amount of Rs2000 at any branch of Siddhartha bank account no: 00915056064 from anywhere in Nepal. Siddhartha bank shall provide special voucher especially for IOE entrance applicant. Name should be of Applicant not of your parents who deposited the fund. You notice Name of Applicant Voucher number (printed on the voucher) Date of Birth in MM/DD/YYYY (month/day/year) format in AD  are correct.
And all Necessary Documents

Your Photo (350px by 300px)
Scanned document (Front and Backward in Different image.)
Visit This link To Start Filling your Form http://entrance.ioe.edu.np/Home/StartRegistration You will Be Provided with Necessary instruction. You shall start your application generally 2/3 hrs later after getting bank voucher. And you cannot apply online without bank voucher.
You can Process by Reading all the Process and Clicking next at the last of every Instruction page.
I will Guide you on some Special field you may Confused or if any more you can Comment bellow for help.
Voucher No. The Number Printed on the Voucher while depositing the fund. In the Middle Name Field you can need to next it empty if you don't have. Contact no. Insert mobile no or Land Line with Area code. Email: fill the email address you use regularly. If some problems on your information IOE will contact you through Email. As i know.
You need some Specific file format of the image so Check Change file format of the image. to change file extension else it will not accept your file. And you need two side of scan copy not both in one. You can cut using Paint in windows. Address information should be as in your citizenship card. (no Matter if your VDS Still exist or not). On SLC symbol no. insert the Letter too. And In collage Symbol no Use the latest one ie use take Back(Chance) exam of 11 You need to insert it. If you are New Select Waiting on Result Type If not Select passed and Fill Passed year and %. At last Insert captcha if Difficult you can select refresh.
Save and Process.
Contact
Institute of Engineering Pulchowk, Lalitpur
P.O. Box: 1175, Kathmandu, Nepal Tel. 01-5521531
Email: entrance@ioe.edu.np
You will get the Form as Below:
After submission, applicant will get a conformation page.Print this page and keep it with you. If not Printer on your PC you can save it as PDF File on your computer and Print it on Some shops. This page is mandatory to receive your admit card. If you are unable to print out the confirmation page after submission of your form, you can print it any time by entering your name and date of birth in the verification page.
Thats all If you Save and Processed and you are not getting any Response or Some Unusual error message you can Find Review on http://entrance.ioe.edu.np/Students/Review you need to insert your Date of Birth Name and Identification no. If it Exist there you can Edit and Process if Now you are not on the System Need to Fill the Form again as new Registration.
Review IOE Form Status
By now your form is submitted, so How to check the status to the IOE form? You need some information about yourself before checking the status of your application. You will need your last name, date of birth and Identification No. ie. (Citizenship/License/Passport  no.) First visit http://entrance.ioe.edu.np/Students/Review

You need to fill the form and review the status of your application. Enter your Last name, DOB and Identification no. Click View my Status. 🙂
How to Get IOE Admit Card
Please be clear and check this notice:-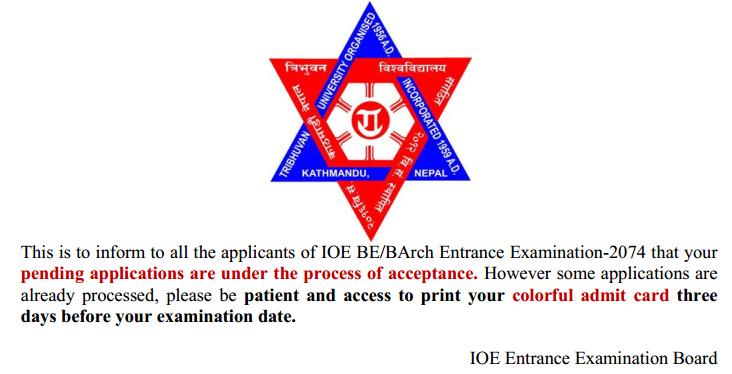 So as from the above image.. (Source IOE) you should wait until 3 days before the exam date.
Once your form is submitted and approved by IOE and its 3 days or less for exam, to download your admit card you can follow this link http://entrance.ioe.edu.np/Students/Review/PrintIDCard you will see something like this: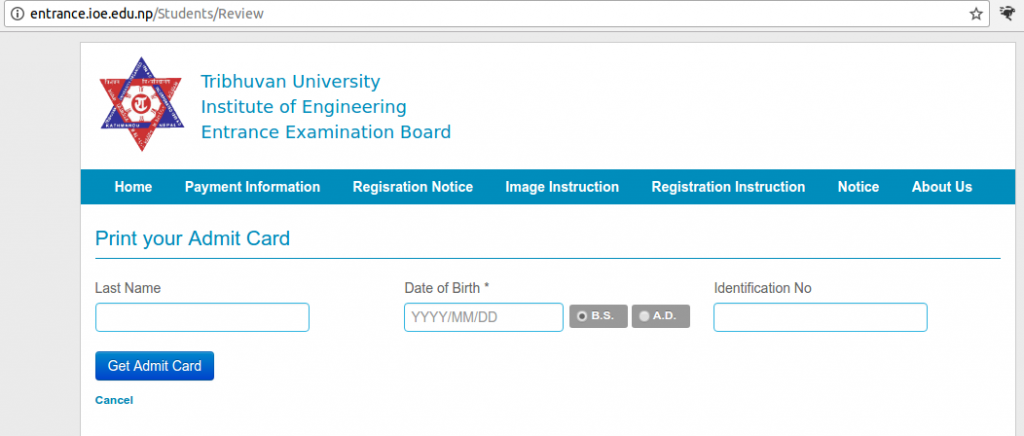 As image shown above, you need some information like Last Name, Date of Birth and Identification No. ( ie. citizenship card no or driving licence no.). Once you fill all these correct you get the link to your admit card. If you fill something wrong you will be redistricted to revised page. Or, you will be redirected to homepage if your request to early.( before 3 days to exam). So after 3 days to exam follow that link and download that (it may be in image or jpg format) Print it using color printer. Then its done. Stay focused and study hard.
If All Process is Done and you find Some information Wrong on confirmation page. You cannot edit and correct it Online, you have to contact entrance examination system at ICTC, Pulchowk. You have to pay Rs 50 at ICTC and put letter of request for correction. And you can also send the mail at entrance@ioe.edu.np by mentioning the correction required but make sure that the records were corrected as per your request. Comment box is always ready to help you.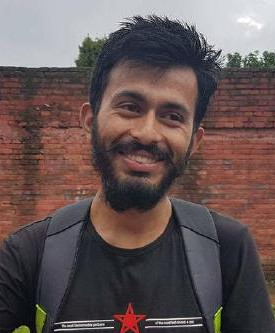 This is Sagar Devkota Co-Founder of Time and Update. I write about Online Earning, Blogging, Web Hosting, Domain Registration, local technical news and some time about Cryptography. I also write about Git, Database, Java, Android, Linux (ubuntu). Studying Bachelor of Software Engineering.