Engineering is the branch of science and technology to find the problem and solve the problem. Engineering concerned with the design, building, and use of engines, machines, and structures. Traditionally, engineering is only about infrastructure, building bridges and engines – machines – vehicles. In Latin, ingenium means cleverness andingeniare means create. I got emails from +2 students asking if I could help them to figure out which course to study for their bachelor, and here I am with all the Engineering programs in Nepal. This article is about Bachelor of Engineering in Nepal.
What is Bachelor's Degree?
A bachelor's is a post-secondary undergraduate degree. Historically, the term "college degree" meant a bachelor's or traditional four-year degree. Undergraduate is also called as first degree, bachelor's degree or simply degree. It is the first degree in the university level. It typically takes four years of full-time study to complete your bachelor's degree. There will be about 40+ courses of total 120 credits. Some Bachelor's Degree in Nepal are:
Bachelor of Arts (BA )
Bachelor of Science (BSc.)
Bachelor of Engineering (BE)
Bachelor of Business Administration (BBA)
Engineering in Nepal
Now let's talk about Bachelor of Engineering. Engineering education is popular among Nepal. Scope of engineering is increasing with the increase in development activities. With the increasing popularity and  demand of engineering there are Universities and colleges providing engineering program. Here are the Engineering programs in Nepal:
Civil Engineering
Mechanical Engineering
Computer Engineering
Electrical & Electronics Engineering
Electronics & Communication Engineering
Information Technology
Architecture Engineering
Biomedical Engineering
Geomatics Engineering
Agriculture Engineering
Industrial Engineering
Automobile Engineering
Chemical Engineering
Software Engineering
Civil & Rural Engineering
All the Engineering program mentioned above are available in Nepal. Those first 3 – 4 programs are available in all of the University with engineering program, whereas other are available only on some university or even in only one college.
University Colleges(Constituent College): These colleges are the colleges with in the university. These are controlled by university or institutes of university.
Affiliated Colleges: is an educational institution that operates independently, but also has a formal collaborative agreement with a university. The university have control or influence over its academic policies, standards and programs.
Universities with Engineering Program in Nepal
Every University should have different Syllabus for the program. Ie. one university should not use syllabus from some other universities. But for same program the internal Curriculum are similar, as every program are for same purposes. Here are the universities from Nepal providing the Engineering program. We only list them here as we will go through every program and mention which university provides that program.
Tribhuwan University (TU)
Pokhara University (PU)
Kathmandu University (KU)
Purbanchal University (PuU)
Mid Western University (MWU)
Far-western University (FWU)
These Universities from Nepal provides several Engineering programs.
Scholarship Program in Engineering in Nepal
Engineering in Tribhuwan University is under Institute of Engineering. IOE offer scholarship to 10% students out of total intake capacity. All the Scholarship are provided on Constituent Engineering Colleges. Scholarship is based on the rank obtained by the applicant students in IOE Entrance Exam. There are regular and paying methods for admission, Where Regular means Scholarship.
Pokhara University Provides 20 percent of approved quota of students in constituent college. 10% of total students in affiliated Colleges. Check Pokhara University Scholarship Everything you need to know.
Kathmandu University Provides Scholarship for one student per 30 fee paying students. They need to maintain a minimum total GPA of 3.0 to continue in each academic year. KU also provide educational loan to the selected students enabling them to meet 25% to 50% of total fees charged by the university. You can learn more here http://www.ku.edu.np/admission/index.php?go=scholarship
For Purbanchal University 10% Scholarship are available in each course (5% for Open and 5% for Reserved). The scholarship will be provided according to present Scholarship act of Purbanchal University.
Admission Procedure
For Tribhuwan University, to get admitted in any colleges(constituent college and affiliated Colleges) students should participate in IOE entrance Exam. Top 10% students will get scholarship and admitted in Constituent college. Other Top students could select their college, Applicant should at least get passed in the entrance exam to get admitted in any affiliated Colleges.
Pokhara University takes Entrance exam for Scholarship and constituent college. And all other affiliated colleges conduct their own Entrance exam for admitting students in their college.
All candidates willing to study in the undergraduate programs of School of Science and School of Engineering shall appear in the Kathmandu University Common Admission Test (KUCAT-CBT).
Civil Engineering in Nepal
Civil Engineering is one of the oldest and most popular engineering program. This program is available on all the universities of nepal providing Engineering programs. Civil Engineering is about design, construction, and maintenance of infrastructure for civilization, which include buildings, bridges, road design.
They have large range of job opportunities from small building to large projects. Most engineers in Nepal are civil engineers.
Mechanical Engineering in Nepal
Mechanical Engineering is about design, analyze, manufacture, and maintain mechanical systems. Mechanical engineering programs usually include courses in mathematics and life and physical sciences, as well as engineering and design.
It is one of the broadest engineering fields. Mechanical engineers design and oversee the manufacture of many products ranging from medical devices to new batteries. Nepal being developing countries need is a great deal of Mechanical Engineer.
Computer Engineering in Nepal
Computer engineering is the branch of engineering that integrates electronic engineering with computer sciences. Computer engineers design and develop computer systems and other technological devices.
Computer Engineering focus in hardware and software analysis, design and development of Computer System. Knowing IT is integrated to almost all engineering sectors, one can always find scope of computer engineering.
Electrical & Electronics Engineering
Electrical Engineering deals with the study and application of electricity, electronics, and electromagnetism. Aerospace, automotive, energy, IT and telecommunications are just some of the many sectors you can work in with a degree in electrical and electronic engineering
Electronics & Communication Engineering
Electronics & Communication Engineering deals with the electronic devices, circuits, communication equipments like transmitter, receiver, integrated circuits (IC). All of the applications which make our life easier and enjoyable such as Television, Radio, Computers, Mobiles etc. are designed and developed by Electronics and Communication Engineers.
Information Technology in Nepal
IT section is one of the growing section in technical field. Every departments uses IT for their internal and communication work. IT utilizes existing operating systems, software and applications in tandem to create a larger system that solves a specific business problem. IT students will study network and database design in depth, and receive an introduction to basic theory and applied mathematics.
Architecture Engineering
Also known as building engineering. Architectural engineers are those who work with other engineers (Civil) and architects for the designing and construction of buildings. They must possess a talent in creative design and arts as architecture is a blend of engineering and arts.
Biomedical Engineering
Biomedical engineering (BME) is the application of engineering principles and design concepts to medicine and biology for healthcare purposes. The need of biomedical engineers is growing in Nepal. Hospitals and clinics need for biomedical engineer to install and maintain the equipment is increasing rapidly.
Geomatics Engineering
Geomatics is the discipline of gathering, storing, processing, and delivering geographic information or spatially referenced information. They are responsible for using geographic data that supports military/civilian operations for Disaster Relief and Homeland Security. They collect, analyze and distribute geospatial information to represent the terrain and its possible effects.
Agriculture Engineering
Agricultural engineering combines the disciplines of mechanical, civil, electrical and chemical engineering principles with a knowledge of agricultural principles according to technological principles.
Nepal being Agricultural developing country, there are lots of scope of this course, We need to profesional farmers and farming technology.
Industrial Engineering
Industrial engineering is a branch of engineering which deals with the optimization of complex processes, systems, or organizations. Industrial engineers work to eliminate waste of time, money, materials, person-hours, machine time, energy and other resources that do not generate value.
Automobile Engineering
Automobile Engineering is a branch study of engineering which teaches manufacturing, designing, mechanical mechanisms as well operations of automobiles. It is an introduction to vehicle engineering which deals with motorcycles, cars, buses trucks etc.
Chemical Engineering
Chemical engineering is a branch of engineering that uses principles of chemistry, physics, mathematics and economics to efficiently use, produce transform, and transport chemicals, materials and energy.
Chemical engineers work in manufacturing, pharmaceuticals, healthcare, design and construction, pulp and paper, petrochemicals, food processing, specialty chemicals, microelectronics, electronic and advanced materials, polymers, business services, biotechnology and this list goes on.
Software Engineering In Nepal
Software Engineering focus in the development of good quality softwares. As the world is totally based on the information technology and softwares being the main components. It have a growing scope. You can learn more here Bachelor of Software Engineering.
Civil & Rural Engineering
In Nepal there are lots of rural areas where peoples are suffering from poverty, food insecurity and poor quality of rural life. The graduates in Civil and Rural Engineering are expected to serve in numerous government and development agencies working in the areas of rural infrastructure development and other development fields.
Program and Universities
Here is a table showing which course is available in which university. A tick Marks indicates that there is the program available in that university. Some course are available only on affiliated colleges of those university or some are only on Constituent Colleges.
| Program | Tribhuwan University (TU) | Pokhara University (PU) | Kathmandu University (KU) | Purbanchal University (PuU) | Mid Western University (MWU) | Far-western University (FWU) |
| --- | --- | --- | --- | --- | --- | --- |
| Civil Engineering | ✓ | ✓ | ✓ | ✓ | ✓ | ✓ |
| Mechanical Engineering | ✓ | | ✓ | | | |
| Computer Engineering | ✓ | ✓ | ✓ | ✓ | ✓ | |
| Electrical & Electronics Engineering | | ✓ | ✓ | | | |
| Electronics & Communication Engineering | ✓ | ✓ | | ✓ | ✓ | |
| Information Technology | | ✓ | | | | |
| Architecture Engineering | ✓ | | | ✓ | | |
| Biomedical Engineering | | | | ✓ | | |
| Geomatics Engineering | | | ✓ | ✓ | | |
| Agriculture Engineering | ✓ | ✓ | | | | |
| Industrial Engineering | ✓ | | | | | |
| Automobile Engineering | ✓ | | | | | |
| Chemical Engineering | | | ✓ | | | |
| Software Engineering | | ✓ | | | | |
| Civil & Rural Engineering | | ✓ | | | | |
| Environmental Engineering | | | ✓ | | | |
| Electrical Engineering | ✓ | | | ✓ | | |
Conclusion
There are lots of variety of Engineering programs available in Nepal. Students can apply for scholarship also. We include all the engineering programs and their respective university. You can select your engineering program based on your interest and workplace you wanted to work. Engineering in Nepal is popular university program. Engineering focus on finding solution the the existing problems.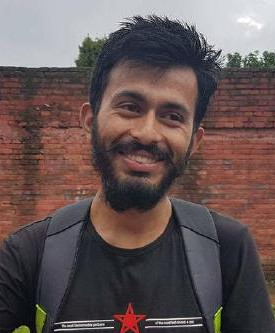 This is Sagar Devkota Co-Founder of Time and Update. I write about Online Earning, Blogging, Web Hosting, Domain Registration, local technical news and some time about Cryptography. I also write about Git, Database, Java, Android, Linux (ubuntu). Studying Bachelor of Software Engineering.