Ncell is fighting against a viral news which include that users are receiving calls from some calls and are danger for them. Ncell is busy replying all the costumers about the calls. Ncell used to call costumers to inform their features which are irritating. Answering calls from short numbers can harm people and red Numbers all these news are viral over twitter and Facebook. Red number call fake call and short call in Ncell some are mentioning this as a death call. "Death Calls" Killer Phone Number Warnings
Check Post: Get Shaw Academy Premium Membership For Free from NTC
Nepal Telecom With 4G Giving 4GB Data Free
Free SMS With Ncell Ecare
Ncell Upahar Offer Free Use
Red call
Finally Polish found The Guilty criminal caught
Red Number call and people are killed because of receiving those calls are all rumor. There is any fact behind this. As per the information i got there is no such things happening. All who you are seeking what really the red call is and how can it be dangerous and are people are death because of red called in Nepal. No It's all Fake. Don't Worry. It's all Fake. Don't Worry. It's all Fake. Don't Worry.
The main problem is many online media publish this article which are completely useless the location told to be death of people are Nuwakot, Dhading, Makwanpur and Kathmandu even. But there is no any Proof of this Which has not yet been conformed by any official governmental organisation. There was a post on Facebook/Twitter claiming whoever receive that call would end up dead. That's how it went viral. Being viral is something we cannot predict and need not be completely genuine. Viral news keeps on coming in Nepal specially due to social medias.
Here are some of those images.
On a tweet Ncell reply "This number is for customer information. You will not be harmed by that call or any call of such." For the above photo. This is all fake news. Please we request you not to follow such kind of rumor.  Here is a tweet twitted by Ncell conforming there is  no issues. Check Other News From Ncell.
From Ncell
Updated:
I should not have published the Chat history with Ncell Publicly So I Remove however I need to Publish the summary to make you Conform about this rumor.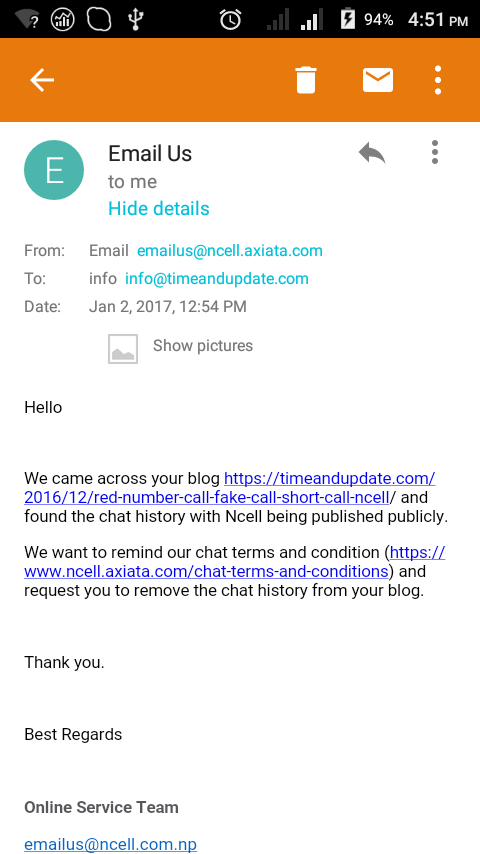 I had made a contact with Ncell and Here is a summary of that Conversation. Mail for all the Conversation. Will send you Privately.
Ncell Should publish Theirs Words on This issue not only through Social Media. Ncell can Promote Advertisement of Full page On News paper and Every 30 min on TV. Cant they publish or inform Publicly that They are not associated and all those Are RUMOR. And not to be confused But all this are Rumor according the Private Conversation with Ncell and they are also on Research about this.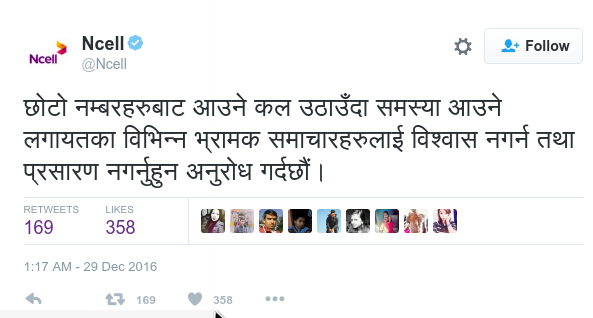 After searching all about this I can conform that all these are Rumor / Hoax. which is Circulating since: April 2007 Status: False And this news was once viral on US too during Nokia mobile period. Here is a part from some search.
Don't panic, it's a hoax. Variants of the so-called "red number," "cursed phone number," or "death call" hoax first appeared on April 13, 2007 in Pakistan, where they caused widespread panic and inspired a slew of ancillary rumors, including the claim that the phone calls, if listened to, could also trigger impotence in men and pregnancy in women. According to news reports, Pakistanis were heard trading secondhand stories of actual deaths that had supposedly occurred, with some claiming the fatalities were the handiwork of ancestral spirits enraged by the construction of a cell phone tower over a graveyard.
This news is viral so much that always ncell used to call and it is so irritating. During on class and doing some busy task it always disturb. Check this About Misdialed call here https://en.wikipedia.org/wiki/Misdialed_call
Conclusion
After all from the news online and the conversation with Ncell we can conclude that We may can receive such calls from Red Numbers and there is no harm on Answering them. and we should not call back or send SMS to those numbers because you may be charged high rates.
Thanks Ncell for the Live chat service and all the information. Red number call fake call and short call in Ncell "Death Calls" Killer Phone Number Warnings. Have nice days!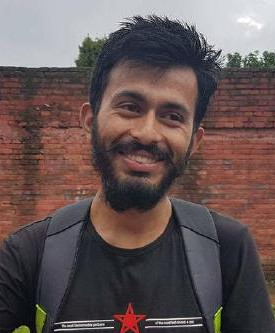 This is Sagar Devkota Co-Founder of Time and Update. I write about Online Earning, Blogging, Web Hosting, Domain Registration, local technical news and some time about Cryptography. I also write about Git, Database, Java, Android, Linux (ubuntu). Studying Bachelor of Software Engineering.