Global Game Jam is going to be held in Nepal. It is second Global Game Jam organised in Nepal. It was organised on 2016 as a first Global Game Jam Nepal Global Game Jam [Nepal]. Global Game Jam is an annual event for game developers who will develop games based on a theme within 48 hours. Global game jam occurs in various locations all around the world. The first Global Game Jam was held from January 30 – February 1, 2009, at 53 locations across the globe. During the jam, 1650 participants created 370 games. Global Game Jam (GGJ) Nepal 2017 World's Largest Event
Global Game Jam
The Global Game Jam (GGJ) is an annual distributed game jam.
At every Event spot Participates gather to develop ideas groups, create something new, create games and present it to local as well as global participates all with in the limited time period. The 2012 Game Jam ran January 27–29 with over 10,684 participants in 242 locations (47 countries). 2209 games were created. According to a March 2 press release, the Global Game Jam is recognized as the largest in the world by the Guinness Book of World Records.
Global Game Jam Nepal 2016
Global game jam 2016 occurs in various locations including Nepal from 29th to 31st January 2016. it was held at Pulchowk campus. Here are list of Some games Developed on Global Game Jam Nepal 2016.
Caste Aside
Bull Chase
Kalvairab
Finding R
Global Game Jam (GGJ) Nepal 2017

Game developers community – Nepal is organizing it's second Global Game Jam. If you are a game developer and are interested in developing games with other game developers, game studios and professionals from Nepal are requested to register for this event.
Register at:
http://globalgamejam.org/
and join our game jam site at:
http://globalgamejam.org/2…/jam-sites/global-game-jam-nepal/
This event is going to held on 20th – 22nd January Khichapokhari, Kathmandu.
Entrance Fee:  Rs. 150
Hours:  10 am to 5 pm for the first day
Here is Message from the Organizer Committee.
Hello Everyone,
We are planning to establish Game Developers Community here in Nepal. And we'd like to invite you to join us in our efforts to flourish game industry in Nepal. Please leave your email in the comments below if you are pursuing your career as a game developer or are experienced in this field.
Your involvement is very much appreciated.
Thank you,
Organizer Committee
Global Game Jam Nepal
Join this Event
To join this event first you need to create your account on the global jam game. http://globalgamejam.org/ and join this event from this link http://globalgamejam.org/2…/jam-sites/global-game-jam-nepal/ You will get chance to meant peoples with like-minded people, share ideas, and collaborate with them.
Global Game Jam (GGJ) Nepal 2017 World's Largest Event join to meet with like-minded people and share your ideas be a part of world largest event.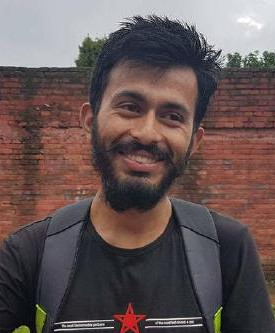 This is Sagar Devkota Co-Founder of Time and Update. I write about Online Earning, Blogging, Web Hosting, Domain Registration, local technical news and some time about Cryptography. I also write about Git, Database, Java, Android, Linux (ubuntu). Studying Bachelor of Software Engineering.