Hello all most of all users use gmail for email access. And most of all have google account. Google account is automatically created while you start using gmail. Gmail is a free mail service provided by google. Every google account has 15 GB storage for free. among them you can use that for mail, google drive, photos, blogs and more. We use gmail to create accounts in other internet services. Today I am here sharing you the must be known tips from gmail to you posted under Gmail Tricks Every One Should Know.
Auto Response
If you are in outing you can set auto response to emails you receive or when ever you want to send auto response to emails you receive. you can set that auto response to all users or for some users on your Contacts list. Gmail will sends an automated reply to incoming messages. If a contact sends you several messages, this automated reply will be sent at most once every 4 days. Gmail term this service as Vacation responder. You can turn it on or off anytime you need. Just go to gmail General setting https://mail.google.com/mail/u/0/#settings/general and search for Vacation response and set it there.
Signature and Picture
Every time you send mail to anybody there includes your images too. By default it is the profile image of Google Plus or the image that is usually shown in your blogger blog. But you can set which image to be included in your outgoing mail. To set your picture just go to General setting and Change image under My Picture section. You can set a signature for your outgoing emails it will always be included on the bottom of your outgoing email. You can also set it from The general setting and Under Signature. For designed signature check out Simple Signature for your email a Only post made by Sunil for Time and Update.
Send mail as
Do you know? . (Dots) Have No Meaning in Gmail. Check that post. dots on gmail are no use. So you can response to other email using several address you wanted. I can send email as time.andupdate@gmail.com also with timeandupdate@gmail.com but incoming emails are always received to the same mailbox. And you can change whenever you want to send email and also you can set default one. Go to the settings from above link and go to Account and Import Section under Send mail as option. Click in add another email and add another form of your gmail address. Also You can add email from other server to send mail from your gmail using SMTP. for tha you need to click Add anothre email address.
Mail from other server
You can send and receive emails on other accounts directly to your gmail account. There are two options for other popular email accounts to add in your account. either getting all the gmail features or Just use POP3/IMAP to Check incoming emails. Click in add mail address to process First insert your email address and select pop3 and fill the server thats all.
Check: Best Email Hosting Mail Server For Your Domain
Blocking some emails in Gmail
You can also block some emails from sending mails to you. Although it is termed as block mails are not blocked but mails form that particular account will appear in Spam. https://mail.google.com/mail/u/0/#settings/filters You can go to the section from the above link. you can also set some filters rules.
Mail Forwarding
You can also forward received email to other your other mail address in gmail or from other mail server. This will be better option if shifting mail address. For that you need to conform that the address belongs to you by clicking the link sent from gmail to approve in the inserted email address. As you receive and send mails from POP3/IMAP and SMTP. you can also access your gmail from Other email applications using POP/IMAP and SMTP Server. If need we will create separate article on this. Please comment if needed. 
Crazy Experimental Stuff
You can test some expermental features by gmail in your account crazy experimental stuff from  https://mail.google.com/mail/u/0/#settings/labs here, Lap Section in setting. And you can always change the view background and more from the Theme section.
Here are some of the features by gmail you should be know about. So how was our post on Gmail Tricks Every One Should Know  Don't forget to comment bellow. If its seems useful don't forget to share. Gmail Tricks Every One Should Know Have Good days.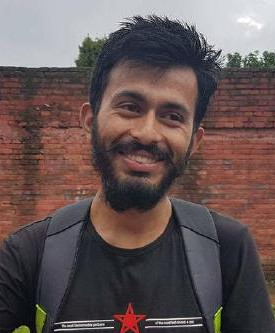 This is Sagar Devkota Co-Founder of Time and Update. I write about Online Earning, Blogging, Web Hosting, Domain Registration, local technical news and some time about Cryptography. I also write about Git, Database, Java, Android, Linux (ubuntu). Studying Bachelor of Software Engineering.